Diane Jones Konihowski C.M. retires after eight years at Distress Centre
Image: Diane at the ENMAX partnership announcement in 2013.
Diane Jones Konihowski, Director of Fund Development and Communications, is retiring after eight and half years at Distress Centre.
Diane joined DC in 2013, three days after the flood. For the last eight years, Diane has been instrumental in raising the awareness of DC in our community and in ensuring our financial sustainability each year.
In her time at Distress Centre, Diane oversaw and executed the annual fund development business plan, cultivated donor relationships, secured funding to support and grow our programs, led communications initiatives including the development of the annual Report to the Community, and she played a key role in the creation of Distress Centre's overall strategic plan.
"All of us at Distress Centre are grateful that Diane chose to spend her last working years with Distress Centre," said Robyn Romano, Chief Executive Officer at DC. "Her legacy will be felt for years to come in the areas of fund development and communications and for Distress Centre as a whole."
Diane could always be counted on to bring a smile and positive attitude to the office. She could often be found in the contact centre, chatting with staff and volunteers and thanking them for being part of the DC team. Halloween was always a happy time when she brought in popcorn balls her husband made for the volunteers and staff.
Diane came to us from Premiere Executive Suites Calgary, Theatre Calgary, KidSport Canada and the Canadian Sport Centre Calgary. She received a Bachelor of Education degree from the University of Saskatchewan, and holds two honorary Doctor of Laws Degrees from the U of S and Brock University. She has worked as a national team coach, University instructor, Calgary Sun columnist, and for CBC Edmonton AM and CBC TV Calgary.
Diane is well known for her athletic career. As a world-class pentathlete, she was the 1978 Commonwealth Champion and number one in the world. Diane won gold at the 1975 & 1979 Pan-American Games and she was named to three Olympic teams. She was the Chef de Mission of the 2000 Canadian Olympic Team in Sydney, Australia.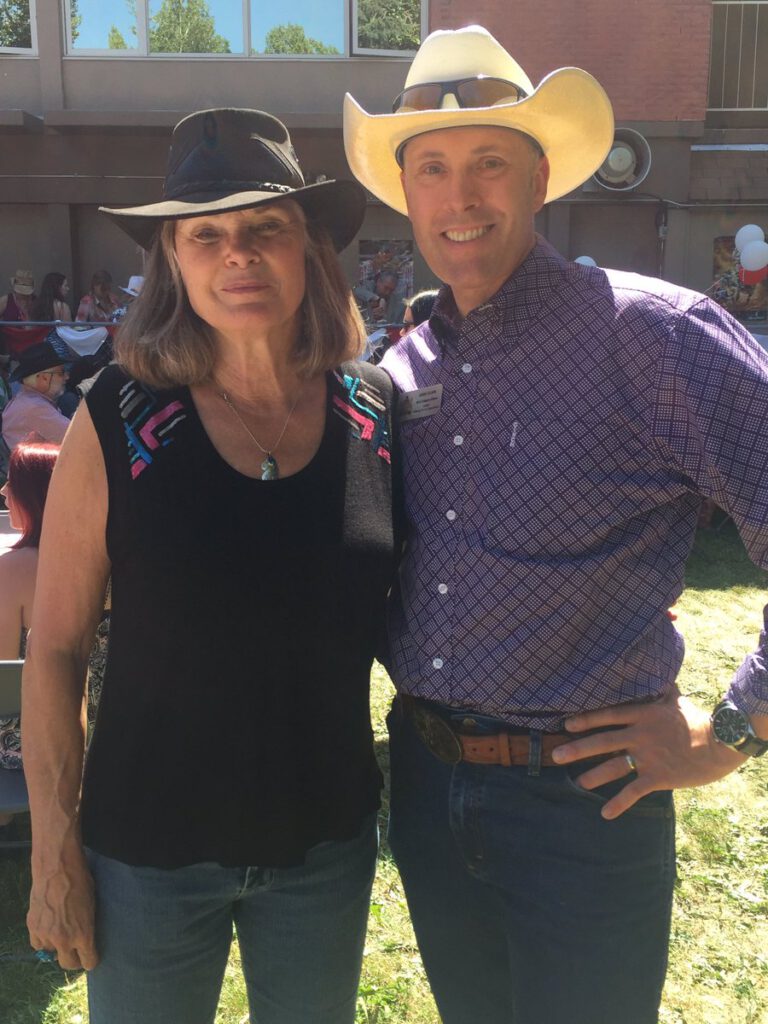 She is a member of the Order of Canada, and is a member of the Saskatchewan Sports Hall of Fame, Canadian Olympic Sports Hall of Fame, and the Alberta Sports Hall of Fame and Museum. She is part of the Class of 2020-21 to receive the Order of Sport in Canada's Sport Hall of Fame.
Diane is also a wife, mother of two beautiful daughters and grandmother to three.
We are excited to share that Diane will stay on as a champion of Distress Centre to help coordinate our 12th annual Lend An Ear event. The virtual fundraiser will feature sports broadcaster, Ron MacLean as MC and a panel of Olympic athletes discussing the mental health challenges they've faced during their career. The event combines Diane's passion for DC with her love of sport.
"I have really enjoyed my time at Distress Centre. The people are awesome and the service we provide to our community is amazing. I am very pleased to stay on to see Lend An Ear become a great event. Every Olympian has a story that everyone can relate to. Because there is no secret to success and because we all need the same things to be successful, we can all be inspired by an Olympian's journey to the Games or to the podium," says Diane.
We are pleased that she is staying on in this temporary role. Save the date for Lend An Ear: this year's event is a breakfast and takes place on the morning of September 22nd.