Three lessons from the 2022 AIRS Conference in Baltimore
Guest Post: Nadiya Hasan, 211 Community Resource Specialist and Contact Centre Coordinator at Distress Centre Calgary.

Nadiya attended the AIRS Learn conference in Baltimore, Maryland in October 2022. AIRS (The Alliance of Information and Referral Systems) is the professional membership association for community Information and Referral.
As I sat there admiring the red-streaked sky and skim through clouds, I thought of how privileged I was to be in this position. Not only was I getting to travel, but I am the first staff member, not in management, to have the opportunity to be flown out, paid to learn, and explore a part of the earth I hadn't seen before. As I try not to let the imposter syndrome get the best of me, I am left to ponder upon a memory…
When I was nine years old and first moved to Calgary from Montreal, I didn't know a lick of English. I used to practice my English by pretending to help imaginary people find jobs. I had no concept of a recruiter at the time, but I think what I was actually trying to mimic was the work of a social worker. I knew I wanted to help people, and I wanted to be good at it. I often think about that memory when I work at Distress Centre as a 211 Community Resource Specialist (CRS), while I help match people's concerns to the resources available to them. I was manifesting this, and I didn't even know it. Thank you Distress Centre, and our CEO Robyn Romano for the opportunity to make the younger me proud.
While there were so many mini lessons I learned along the way, I have highlighted my three top lessons from the four day trip:
1. It's Tough Everywhere:
The pandemic and inflation has been hard for everyone, but also hard in terms of how to navigate the system as a CRS. There never seems to be enough programs and resources to help everyone. In the midst of keeping our agency accountable, it is important to remind ourselves that no agency or management team has it all figured out. Everyone is simply trying to be of service to their communities, to the best of their capacity. What's important is we learn from one another as agencies.
There are two types of groups in organizations: one's who "push down", and one's who "push up." The key to success is communication between the two. The folks who push down are more so front line staff who make sure that services trickle down to the vulnerable population as directly as possible while monitoring the effects of staff burnout and turnover. Those who push up are trying to help our community's most vulnerable through new programs or push for policy change, usually via management. Both present equally important work. Ultimately, the goal as a team should be to embrace creativity, push the collective narrative, and be comfortable in figuring things out as you go.
2. On Good Problems
In a group discussion at one of the sessions, I was expressing a particular frustration, and one of the members labeled it a "good problem." At first, this paradox took me by surprise; I wanted them to recognize my team's struggle, but then I realized the gift in what they had said. It made me reframe potential challenges as minor successes while on the path to bigger achievements.
For example: there are many reasons why we may see a raise in contact volumes, but that doesn't always come with clarity about what services 211 provides. This in turn means service users will have expectations that are beyond our scope, and navigating this conversation isn't always easy. However, seeing that as a "good problem" trained my brain to see it as a point of gratitude; our services are getting acknowledged in the community and spreading the word means we have the ability to help more people, even if there are some hiccups along the way. In order to be passionate about your job, you have to learn to accept the hard aspects of it, to enjoy the fun parts!
3. Importance of Being Crisis Trained
Growing up, my brother always said there is no amount of money in the world that could make him be those guys at the mall trying to sell you some kind of skin care product. He explained that he is not going to sign up to get willingly rejected and hear the word "no" over and over again. To this day, I always feel pity when I pass by them, and try to smile while I say no.
What I didn't anticipated is I would grow up to be someone begging to say "yes" just like those employees were waiting to hear one. I got into an industry where I thought I would be helping people, but I didn't anticipate that would include being the bearer of bad news.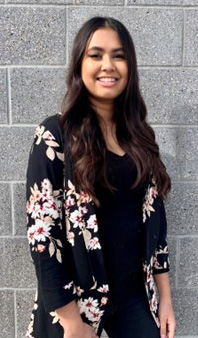 What no one tells you about information and referral is that often people need to share their story before I can provide the information. Some people don't realize they need crisis management, but hide under the guise of seeking information. Many feel safer calling 211 rather than a crisis line to avoid stigma, and some will avoid asking for referrals for their mental health altogether.
Being trauma-informed, and trained in crisis intervention makes conversations about mental health, suicide and violence easier to explore. Now more than ever, people are in crisis when they are asking for referrals, and more often than not, we have to "crisis intervene" first, before we are able to give resources. I'm grateful for this training because I know I can successfully manage risk and resources, and that makes my team special in the kinds of projects we can be a part of too.
For me, getting the opportunity to go on this trip was a guided sign from the universe that I was meant to be exactly on the path that I am on, at exactly the pace that I am doing it.
Some runner up lessons were:
There is power in solitude because it makes exploring a city alone fun
All the little things we have to do on 211 to receive accreditation can feel tedious, but the standards are to better the agency and ultimately better serve people.
Everyone enjoys pet pictures and good love stories because it is the human parts of yourself that count and shine – not just the work you do!