February 11th is 211 Day!
We're excited to celebrate 211 Day on February 11th! Across North America, this is a special day (2/11) to celebrate and raise awareness of 211.
What is 211?
Contact 211 to access an entire network of community, social, health and government services. Calls, texts and chats are answered by professional 211 Community Resource Specialists who are trained to assess needs and refer the service user to the most appropriate services. 211 is available across Alberta, 24 hours a day. 211 is an initiative of United Way and in Calgary and Southern Alberta, 211 is operated by Distress Centre Calgary.
Growth and Change
The last few years have been transformational for 211 in Calgary and Alberta. 211 Calgary and Area responded to over 48,800 contacts in 2022, compared to 25,800 in 2019, an increase of 89%! 
Why have we seen such a large increase? In 2020, the emergence of the COVID-19 pandemic brought increased attention to 211. Services were changing rapidly at the time – some changed how they were delivered, others suspended services, and some expanded their offerings – and 211 was there to provide up-to-date information and navigation support during an unprecedented situation.
Early in 2020, 211 Alberta expanded text and chat support to 24/7 availability, further increasing access to 211. Throughout 2020 and 2021, 211 in Alberta was part of a variety of COVID-19-related initiatives, including mask distribution and transportation support for vaccine appointments.
Though COVID-19 related contacts dropped off in 2022, the increase in demand compared to pre-pandemic levels continued. In the last three years, by adapting our service delivery and forming partnerships, 211 has evolved to better meet the changing needs of the community.
"As the needs in our community continue to increase coming out of the pandemic, it requires us to shift how we support those reaching out for help. The landscape is changing from simple information and referral, and 211 is here to help Calgarians and Albertans navigate and connect with the expansive network of services available in the community."  
2022
While financial assistance remained a top issue for contacts in 2022, we also saw a substantial increase in mental health and substance abuse-related contacts. There was a 50% increase in the number of mental health and substance use needs identified in contacts. We provided 1112 referrals to substance use disorder services in 2022, such as detox and residential treatment services.
Notably in 2022, there were over 12,000 basic needs resources referrals in Calgary, including over 2000 referrals to emergency shelters.
We're glad that more Calgarians and Albertans reach out to 211 when they need help and don't know where to turn and we are here for the community 24 hours a day.
Transformative Partnerships
2022 was an exciting year for 211 in Calgary. Through the collaborative efforts of many existing and new partnerships, positive strides have been made to create a better response to mental health and addiction issues in our city.
On February 1, 2022, Distress Centre Calgary, Calgary Police Service and Calgary 911 began a pilot project to divert non-emergency calls from 911 to 211. Through this partnership, 211 can assist people experiencing non-emergency mental health or addictions issues who are better served by social services, rather than a police response.
Over the course of 2022, this partnership has grown to include Alpha House, and The Alex.
The Alpha House Downtown Outreach Addiction Partnership (DOAP) program actively works to divert socially complex, high-needs individuals struggling with addiction issues from law-enforcement responses and unnecessary health care use by bringing them to appropriate services so that presenting issues can be addressed. Now in District 1 in Calgary, you can call 211 to connect with the DOAP team, who will come to the individual and connect them to services, when a police response is not needed.
The Alex will be launching the Community Mobile Crisis Response (CMCR) pilot program in early 2023.  Under this new project, The CMCR will provide mobile support to those experiencing a non-emergency behavioural or mental health crisis where there is no threat to safety, instead of having a police response.
In 2022, a total of 1927 calls were connected to 211 via the 911/non-emergency line. The co-located staff at 211 also answer calls connected via the non-emergency line by self-diverting service users who press 6 as their selection. Since December 13th, 2022, we have received 60 mental health/suicide crisis intervention calls diverted from 911. Police codes related to mental health and suicide were updated to allow this option for callers.
Since its launch on August 2, 2022, the DOAP team was successfully dispatched 1833 times from both calls diverted from 911 and directly from the community.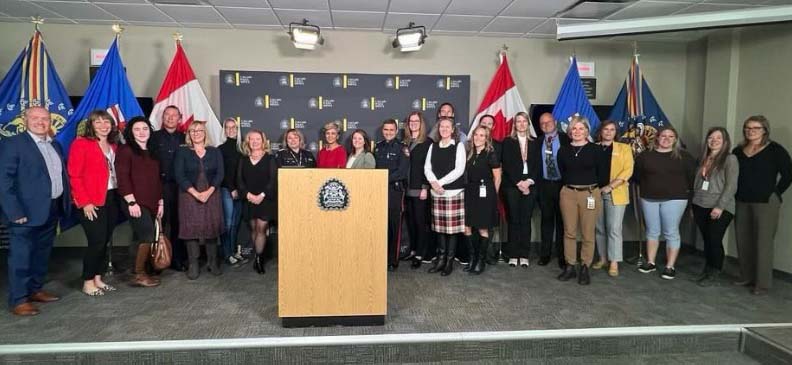 211 Day
211 is proud to have provided information and navigation support to Calgarians and Albertans since 2005 and we are excited to continue serving the community into the future.
Join us for a Twitter Chat on Friday, February 10th at 11:30am to learn more about the work of 211s across Canada. Check out the Calgary Tower on February 11th to see it lit up in red for 211 Day, along with many other monuments in Canada.
Help us spread the word by sharing a graphic about 211 for 211 Day!
To reach 211, dial 2-1-1, text INFO to 211, or visit ab.211.ca and click "live chat."