In the journey of life, it's not uncommon to have negative thoughts, and for some, these may gradually escalate to thoughts of self-harm or suicide.
If you or a loved one is having suicidal thoughts, you may wonder if they are simply a part of life's ups and downs. While fleeting thoughts about suicide can cross anyone's mind, more frequent or persistent thoughts may be cause for concern. It's vital to acknowledge suicidal thoughts and take action, as they can indicate significant emotional distress and the need for support.
If you are currently in crisis, call 911 or contact Distress Centre or 211 for help.
Understanding Suicidal Thoughts
Suicidal thoughts are not a choice, a sign of weakness, or a personal flaw. People experiencing suicidal ideation often go through intense emotional and mental pain, which can be overwhelming.
People having thoughts of suicide tend to feel hopeless, isolated, overwhelmed, and trapped. They may also experience sleep disturbances, changes in appetite, mood swings, and difficulty concentrating.
Why Do Suicidal Thoughts Occur?
There is no single explanation for suicidal thoughts. While suicidal thoughts can be associated with a specific event, like a breakup or job loss, they are often a result of a combination of factors that make it difficult for people to cope with life's challenges.
There are many factors that can contribute to suicidal ideation, including:
Mental illness
Substance abuse
Trauma
Bullying
Self-harm
Relationship problems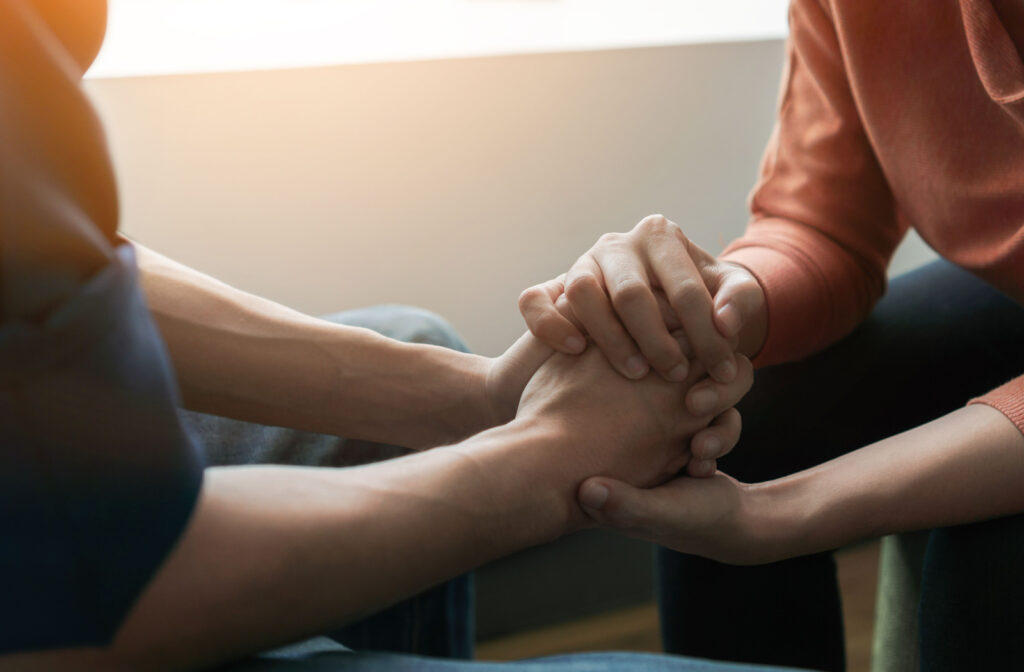 Coping Strategies for Suicidal Thoughts
Coping with suicidal thoughts can be challenging, but there are strategies that you can use to help you manage your emotions and thoughts. It's essential to reach out to someone you trust who can provide you with the necessary support. Remember that seeking help is a sign of strength, and you deserve to receive the support and care you need.
A safety plan can serve as an invaluable tool in addressing self-harm and suicidal behaviours.
A safety plan can help you manage and redirect your focus from thoughts of self-harm and suicide to navigate through the initial overwhelming moments of crisis and find ways to cope until you can seek further assistance. This plan is not a quick fix that will permanently remove all thoughts of self-harm or suicide. Rather, it serves as a coping tool to help individuals get through the immediate crisis they may be facing.
Steps to Creating a Safety Plan
The process of creating a safety plan is best done collaboratively. If you're seeking a plan for yourself, consider reaching out to a trusted friend and try crafting it together. You can also reach out to the Distress Centre for help creating a safety plan.
1. Recognizing Warning Signs
It's crucial to be aware of signs or indications of an impending crisis. The first step is to take note of any physical or emotional changes you experience leading up to thoughts of self-harm or suicide. These changes could include feelings of increasing depression, irritability, or hopelessness, disruptions in sleep patterns, or an inclination toward isolation. Make sure to document these warning signs diligently for future reference.
2. Internal Coping Strategies
Once you've recognized the warning signs of an impending crisis, note some internal coping strategies you can use to divert your focus from feelings of despair. This might mean engaging in activities that bring distraction and relief, like taking a walk outside, listening to uplifting music, enjoying a refreshing shower, playing a video game, or spending time with a pet. Remember to carefully record the coping strategies you choose.
3. Social Strategies 
The next step is to note social contacts or settings that could serve as a distraction. Whether you're directly interacting with friends or family members or immersing yourself in social environments like coffee shops or places of worship, socializing can serve as a valuable tool. During this stage, it's not necessary to explicitly share how you're feeling unless you wish to. Include these social strategies in step 3 of your safety plan.
4. Choosing a Support Person
If steps 1 through 3 prove insufficient, it's crucial to confide in someone about your crisis and seek their support. When developing your safety plan, carefully choose a trusted person to fulfill this role. If possible, identify multiple people who can serve as support persons so you have alternative options if your primary contact is unavailable.
Have an open conversation with your chosen confidant beforehand, making them aware of your situation and the details of your safety plan. In your safety plan, include the contact information and availability of your support person(s).
5. Seeking Professional Help
If steps 1 through 4 aren't effective, it's essential to reach out to mental health professionals or agencies for assistance. Reaching out to your counsellor, the Distress Centre, 911, or 211 could all be viable options. Compile a list of names and contact information for these resources within your safety plan.
6. Restricting Access
Lastly, as an integral part of your safety plan, limit access to any potential means that could be used for self-harm. Take proactive measures to identify and restrict access to items or substances that could be harmful. This may involve safely storing firearms and implementing safeguards for medication access. By responsibly managing access to these items, you can reduce the risk of harm to yourself.
Keep in mind that a good safety plan can change over time. You may find that some coping strategies work better than others, or that you feel more comfortable going to another support person. Keep your safety plan up to date and make changes as needed.
When to Seek Help for Suicidal Thoughts
If you are experiencing suicidal ideation and are at risk of harming yourself, it is crucial to seek help immediately. You should never hesitate to reach out for help.
There are several resources available that provide immediate support and guidance. You can contact the Distress Centre at 403-266-4357 (HELP) or Talk Suicide Canada at 1-833-456-4566. These helplines offer round-the-clock assistance, so help is always accessible, regardless of the time of day.
Keep in mind your safety plan and the trusted individuals in your support network, such as friends, family, or mental health professionals. Sharing your thoughts and feelings with someone you trust can provide a vital source of support and understanding. By reaching out to these resources, you are prioritizing your mental health and taking an important stride toward healing.